Tim Burton heads Cannes, highbrow spleen follows
Sundance? Nah, we're done. The festival circuit (which, unlike awards season, I never get tired of) rushes on with the announcement that Tim Burton will be heading up the 2010 Cannes jury. The news was instantly greeted with sarcasm and outright venom by most of the highbrow folks I know (and, I suppose, more or less claim affiliation with).
Discounting the die-hard Burton fans, a lot of people seem to agree that after an incredible first run, his work veered into self-parody and diminishing returns, though where you cut off is up to you. I'm on board till "Sleepy Hollow" (seriously), with everything but "Sweeney Todd" being pretty unwatchable after that. That doesn't explain the disdain. I think it has something to do with the sense that Burton's become more of a hollowed-out brand name than an auteur, and "Burtonesque" has become an adjective normally indicating someone biting off more gothic whimsy than they can chew.
But what does this mean for Cannes? Probably absolutely nothing; filmmakers normally go out of their way to avoid awarding movies similar to theirs, except for Tarantino, who did it his way in '04 by making sure "Oldboy" got the Grand Prix. That, I think, is where the bulk of the real disdain is coming from. For all his lowbrow affectations, Tarantino named his production company A Band Apart after Godard's "Band of Outsiders" and his jury gave what's roughly third prize to Apichatpong Weerasethakul's "Tropical Malady" -- as highbrow (and, it must be said, lovely) a film as can be, defending it against the initial philistine attackers.
Tarantino, in short, has his highbrow cred in order, which is important when it comes to Cannes, a festival that still, miraculously, has room for the punishing and mystifying. Burton has no such thing. The currently running MoMA series of films that left their mark upon Burton includes at the high end of the spectrum, "The Cabinet of Dr. Caligari" and Roger Corman; way down at the bottom, we have "When Dinosaurs Ruled The Earth" and "The Swarm."
Considering Cannes juries are volatile and unpredictable anyway, Burton shouldn't register as cause for too much concern, though he did quite clearly express a worldview in "Mars Attacks!" that the world would be a better place if all the snots were gone and we were left with Jim Brown, Tom Jones and some guy rambling about teepees. Let's hope an international jury of his peers can keep him in check, because there's a good chance that he'd give the prize automatically to Sofia Coppola's "Somewhere" (if it gets in) just for casting Stephen Dorff, you know?
[Photos: "The Melancholy Death of Oystery Boy and Other Stories" by Tim Burton, published by HarperEntertainment, 1997; "When Dinosaurs Ruled The Earth," Warner Bros., 1970.]
Sherlock Holmes plus Dinosaurs
Oddee posted a great list of the ten lamest mockbuster movies. Neatorama noticed that C. Thomas Howell is in three of these. I'd make a joke about that, but my mamma always taught me not to kick somebody when they're down, unless they're Welsh.
A mockbuster is a film, often made with a low budget, created with the apparent intention of piggy-backing on the publicity of a major film with a similar title. These movies have similar names like "Snakes on a Train" –not to be confused with "Snakes on a Plane"– or "Transmorphers", instead of "Transformers." They are sometimes released around the same time real larger-budget movies, to make money off their hype and advertising. [Oddee]
The Asylum is one studio behind a lot of these movies, such as Sherlock Holmes (dinosauriffic trailer below), which releases this Friday, one month after Guy Ritchie's Sherlock Holmes. We've replaced the usual Robert Downey Jr. with dinosaurs. Let's see if they notice.
Monster Brawl in Owen Sound
Some of the area's most beautiful natural attractions, including Inglis Falls, could be taken over by blood, gore and death this spring and summer.

A production company has picked the area to film some scenes for their upcoming horror films.

Foresight Features, based in Collingwood, plans to shoot 10 films over the next five years, with Simcoe and Grey counties as the backdrop for much of their work.

Jesse Cook, the writer and director of the production company's upcoming film,Monster Brawl,said he hopes to use Inglis Falls for a film to be shot this summer and possibly for Monster Brawlin the spring.

"We are actually shooting 10 films in the local area, two this year," said Cook. "The first one, called Monster Brawl, will be gearing up in May."

Monster Brawlwill be a horror comedy mockumentary about a monster fighting tournament including classic monsters such as Frankenstein, Dracula, the mummy and the zombie.

Canadian actor Art Hindle has signed with Foresight forMonster Brawl.Hindle is perhaps best know for his role in the moviePorky's,but has also appeared in other movies and television shows, including Dallas, Beverly Hills 90210and Murder She Wrote.

"The bread and butter for the genre stuff is to enlist household names," said John Geddes, another writer, director and producer with Foresight.

The second film of 2010 will be shot sometime over the summer and will be a zombie film in the wilderness.

"We will be doing a good percentage of the shooting in and around the Grey County area," said Cook. "We want to use some of the stunning landscapes Grey County has to offer. Inglis Falls is one of the areas we are looking at."

Cook said there is a chance he could use the Inglis Falls area for scenes for Monster Brawl as well.

Cook said they are still raising the money needed to produce their films this year. So far they are about halfway to the $600,000 needed for the two films. They sell $5,000 units to individual investors.

"We can break even on a film in Canada just based on our broadcast deal, our DVD deal and our tax credit," said Cook.

Investors also get perks such as coming to the set, getting their names in the credits and invitations to the premiers and parties.

Geddes said they would also like to tap the local area for extra actors and crew positions such as production assistants.

Cook and Geddes, who are both Collingwood natives, said Foresight Features has been in the works for about a year, following up on the success they had with their first film,Scarce, which was taken to the Cannes Film Festival in France where it was sold to over a dozen territories. Scarcealso appeared on the Super Channel.

Geddes and Cook began making short films together in 2004 and went to Los Angeles trying to raise money for a feature, but nothing materialized so they returned to the area to try to ply their trade locally. They managed to raise about $250,000 mostly from the Collingwood and The Blue Mountains area for Scarce,which was shot in the winter of 2007 at Metcalfe Rock in the Blue Mountains.

"We are hoping theatrical. We are hoping we can get the next indy hit and bring some press up to the area and maybe develop a local film festival or something like that," said Cook.

Geddes said the idea is to set up a studio in Collingwood and shoot all their films in the area, where it is a lot cheaper to produce movies, both logistically for the duo and because the Canadian government provides a tax credit for doing work outside of Toronto.

"We have the four seasons here. We have water, we have mountains, we have woods, we have town settings so it is a good place to shoot," said Cook. "There is a lot of infrastructure up here and a lot of talent up here and it is our home."
"Splice" a mainstream monster movie
PARK CITY, Utah (Hollywood Reporter) - Mad science meets motherhood in "Splice," a slice of pulp storytelling in which Dr. Frankenstein is replaced by a pair of lovers too hip for lab coats. An odd choice for Sundance even in the midnight slot, the pic falls well within the genre mainstream and should find more receptive crowds at the multiplex than in Park City.
Shot with a moving camera that is playful but not quite tongue-in-cheek, the film begins with researchers Clive and Elsa, a romantic couple played by Adrien Brody and Sarah Polley, overseeing the birth of a gruesome new life form that looks like a giant tongue. Not content with their hybrid of livestock genes, which was developed in search of new pharma-friendly proteins, Elsa covertly goes one step beyond -- slipping some human DNA into the mix to fertilize an egg that is never supposed to become a living creature but, of course, does.
This new, quick-growing little monster, eventually known as Dren, gives the pic's effects crew room to roam, from its initial phase as an armless little beastie with a wicked stinger in its tail through phases in which it looks human enough that Elsa puts it in a dress and gives it dolls to play with. The effects work is quite strong -- no surprise for a fright-flick with Guillermo Del Toro as an exec producer -- as is the moody score.
Writer/director Vincenzo Natali takes his tale in some truly icky directions, not quite making it into Cronenbergland but going far enough to elicit solid 'ewww!' laughs from the crowd. He could have shot for camp-cult DVD shelf life by pushing the story's psychological and sexual elements further, but the action direction he goes instead should satisfy the Friday-night crowd without alienating too many viewers.
Monster illustrations from 'Yokai Jiten'
Here's a peek at a few creatures profiled in Yōkai Jiten ("Yōkai Encyclopedia"), an informative guide to 100 of Japan's traditional monsters, written and illustrated by manga artist Shigeru Mizuki in 1981.

Suiko [+]
The suiko (lit. "water tiger") is a king-sized variety of kappa living in and around the Chikugo River (Kyushu), Lake Biwa (Shiga prefecture), and other bodies of water across Japan.
In addition to prowling around at night and making mischief, the suiko has the power to possess people. Those possessed by a suiko descend into a temporary state of madness, but they recover quickly after the creature withdraws.
At least once a year, the suiko drags a human victim into the water, sucks out his blood, and returns the body to shore. It is best not to have a funeral for the victim of a suiko attack. Instead, the body should be left on a wooden plank inside a small thatched hut in a field. If done properly, this course of action causes the flesh of the suiko perpetrator to slowly rot until it dies.
* * * * *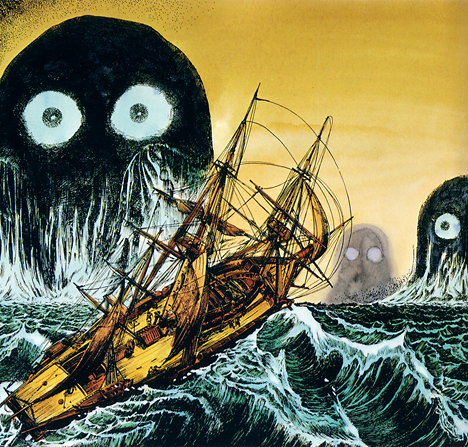 Umi-bōzu [+]
Umi-bōzu are giant black bulbous beings that live in the sea. Sometimes they have glowing eyes and a beak, and other times they have no facial features at all. To survive an umi-bōzu encounter at sea, one should remain quiet and look in the opposite direction. Speaking or looking at the creature may send it into a rage — and that usually ends in tragedy.
* * * * *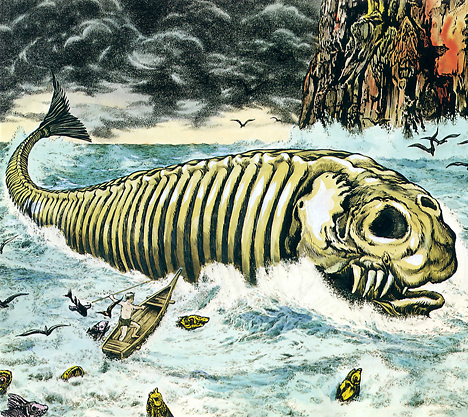 Bake-kujira [+]
Long ago, a mysterious sea creature known as the bake-kujira (lit. "ghost whale") used to appear at night in the waters around an island in Shimane prefecture. The thing looked like the skeleton of a giant whale, and it was usually accompanied by a flock of strange birds when it came drifting in with the tide. Later, when the tide started to recede, peculiar fish would become visible in the water around the monster. Fisherman trying to catch the bake-kujira claimed their harpoons passed through the creature as if it were not there.