Been a while since we had Dinosaurs News!
Lots of Jurassic Park stuff coming up - but we start of with kids and dinosaurs (not that you have to be a child to enjoy dinosaurs).
Kids Discover Dinosaurs in Duluth
by Jena Pike
northlandsnewscenter.com
DULUTH, MN (Northland's NewsCenter) - Hundreds of people came out to discover dinosaurs in the Duluth Children's Museum tonight.

Little paleontologists got to identify, dig out, and clean dinosaur fossils, some of which were discovered in Minnesota.

More than 350 people had come in the first half-hour of the event.
Dino night is part of Museum First Fridays, in which families can enjoy a new theme the first Friday of every month for free.

The director says increasing numbers of people show just how much the museum needs extra space.

"Our plan to move is really predicated on when we raise money. We've raised about a half a million dollars of the 4.8 million that we need to date. We got some pending requests with foundations and corporations, but what we're really looking for is a legacy donor, a league donor to step forward," Michael Garcia, CEO and president of Duluth Children's Museum.

Click to
read more
.
When I was in Tennessee back in May 2004 my fam and I got to check out this awesome dinosaur museum that was made by some rich guy who made his money off of a fighter pilot museum. He had all these life-sized model planes, but his grandkids (again you don't have to be a kid to like dinosaurs) wanted a dinosaur museum instead - so he got the Jurassic Park's designers and model-makers to make life-sized dinosaurs.
Anyhow - it looks like a very, very similar endeavour is coming to New Jersey.
Jurassic Park
Company eyes Secaucus for national lifelike dinosaur exhibit
E. Assata Wrigh
Imagine a large-scale exhibit of dozens of life-sized animatronic dinosaurs set against the natural vegetation and wildlife of the Meadowlands. Now imagine this exhibit coming to Secaucus.

Similar exhibits, known as "dinosaur parks," have been popular and successful in a number of cities, including Cincinnati, Chicago, and Oklahoma City.

If a Glen Ridge-based company gets its way, the New York City area could debut its own dinosaur park in spring/summer 2012 – with Secaucus the likely home.

"It's going to feel like a dinosaur expedition, like a safari into a lost world," said Guy Gsell, president of Jerseysaurus, the company working to open the dinosaur park in town. "Every kid – and I mean kids from 5 years old all the way up to middle-aged guys like me – love to imagine what it would have been like to be there, to see live dinosaurs. The best dinosaur parks that have been done thus far creates that feeling."

At present the plans are very preliminary, since Jerseysaurus is still negotiating for a site, corporate sponsorship, and other funding. But if the company's plans work out, the Secaucus park would be a permanent installation in town, a departure from most other dinosaur exhibits.

"What will make what we're doing different is we're not planning it as a tour, or a leg of a tour," Gsell said. "We are hoping to open up a dinosaur park that will be part of the life of this area for many years."

The seasonal park, he added, would be open to the public about nine months out of the year, spring through fall, with families and schools being the park's two biggest target audiences.

As planned, the park will include life-sized replicas of dinosaurs that will feature animatronic technology to create a realistic, three-dimensional quality often missing from traditional exhibits. For example, using robotic technology, the dinosaur models – which will be endowed with flesh-like "skin" – will be able to make sounds and small movements, the accuracy of which is based on historical research by paleontologists.

Click to
read more
.

Jurassic Park 4 update? Sure!
Jurassic Park 4 Shooting at Universal Studios Hollywood?
Erik
Behind the thrills.com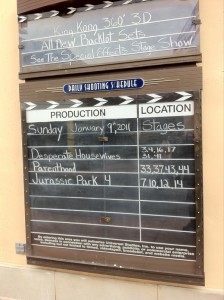 It's been rumored for years now, and the rumors have been all kinds of bug nuts crazy but it seems that the cameras have finally started to roll on Jurassic Park 4 at Universal Studios Hollywood's Backlot. The movie seems to have creeped into production this week, and thanks to the folks over at Theme Park Adventure we have a few pics to go on. The best I can tell this isn't photoshopped as it came directly from TPA's twitpic (click here to check them out on Twitter) as they were at the park.

The last we heard of Jurassic Park IV it was way back in 2007, and included a screenplay for the film that Steven Speilberg was really fond of. It included going back to the Island from the first film, and bringing back that canister of shaving cream that Nedry hid all the DNA samples. Then it took a turn for the weird. The DNA was supposed to be used for some crazy idea to breed out the dinosaurs that were breeding like crazy and making life miserable. That DNA was instead used to create super smart dinos that became Mercenaries, and talked.

As late as last year it seemed that JP 3 helmer Joe Johnston was pretty much set in stone to direct number 4 and said "Well, there is going to be a Jurassic Park IV. And it's going to be unlike anything you've seen. It breaks away from the first three—it's essentially the beginning of the second Jurassic Park trilogy. It's going to be done in a completely different way. That's pretty much all I can tell you."

It doesn't exactly confirm that it's going to be the Mercenary Dinosaurs, but hopefully it won't be "Hey let's go to this Island".

As you can see filming is taking up a few different sets, and it's also begun some blue screen work by the War of the Worlds soundstage area. Nothing else can be seen of the sets from the tram tour, but the good news is that filming has started, or so it seems. It could be a joke a mistake or anything else. And now Universal claims it was a joke someone pulled, though a special edition blu-ray is coming this year and could have new material. We'll keep you posted if we hear more.

Click to
read more
.
Jurassic Park Game Details Surface
Some details have finally crept in on the Jurassic Park game that's currently in development.

Revealed in the latest of Game Informer, the first tidbits we have on Telltale's Jurassic Park game are encouraging but there are a few things that are somewhat disappointing. With there being three Jurassic Park films, two books that are somewhat vastly different from the films that were made and the prospect of really cool spin-off opportunities, some had wondered when the new JP game would take place. Well keeping in tune with everyone's favorite installment of the Jurassic Park series, the JP game will be set directly after the events of the first Jurassic Park film.

Sadly, none of the characters from the film such as Dr. Alan Grant (Sam Neill) or Ian Malcolm (Jeff Goldblum) will make an appearance in the game and it wasn't confirmed if we could expect to see John Hammond, the man behind Jurassic Park, to pop up as well. The character that players assume the role of in the game is a Jurassic Park employee who I assume finds themselves wanting to get off the island as fast as possible so they don't become dinosaur chow.

The gameplay in Jurassic Park won't exactly be in tune with Telltale other projects such as Back to the Future as the game will indeed be reminiscent of Heavy Rain i.e. the action scenes heavily involve Quick Time Events. The game will make players think a bit as there will be puzzles but other gameplay mechanics weren't divulged so it's unknown if players will be able to roam around the abandoned and dinosaur infested InGen facilities and explore things or if they'll be put on a very linear path filled with QTE scenarios.

Unlike the Back to the Future games, Telltale apparently isn't taking a stylistic approach to Jurassic Park as the game utilizes a realistic art style. Early reports peg the game as not being a complete visual masterpiece, but apparently the look of the game is adequate given the size of the game and Telltale's development team. As long as the dinosaurs look convincing and are roughly on the same quality as Jurassic: The Hunted I'll be a happy camper.

Just like Telltale's Back to the Future games, the Jurassic Park project will be split across five episodes with the first set for release this Spring. Aside from the obvious release on the PC and Mac, it wasn't stated which consoles it would be released on but if BTTF is any indication a PSN release should be a lock while Xbox 360 owners may be left crying once more.

It's nice that we finally have some details on Telltale's Jurassic Park game, but I just hope that the gameplay is compelling and merely won't consist of a series of rooms strung together with one or two puzzles and four QTEs. I'm also a bit worried about the QTEs as well as they could either prove to be amazing or fall completely flat if not implemented properly along with making replay sessions a bit boring. It's a bummer that we won't see any of the main movie cast pop up, but maybe Telltale will throw gamers a bone and insert a character cameo for the finale episode of the game. Even if Jurassic Park doesn't turn out to be a masterpiece, I'm just happy the franchise is getting another shot in the video game arena and we're finally getting another game featuring dinosaurs.
Click to
read more
.