Here are some interesting things from the world going into this week:
Fringe Season Five: Five Things To Know Before Next Week
What do you need to know about the Observers, the Purge, the Rebellion, the Fringe and the Daughter going into the new (and final) season of Fringe - check it out at the link. My wfife and I re-watched that flash-forward episode with Henry Ian Cusick in it yesterday, and it was a great prep-course in what's coming up.
Carowinds to open dinosaur attraction
Where can you see a Ruyangosaurus (the closest dinosaur to having my name, specifically)? Wherever it is that Carowinds amusement park is (somewhere in South Carolina).
Carowinds amusement park announced the addition of a new dinosaur attraction for Spring 2013 that will feature 32 animatronic dinosaur replicas.

"Dinosaurs Alive!" will cover five acres and will be "the largest animatronic dinosaur park in the Southeast," according to Carowinds Public Relations Manger Julie Whitted. The attraction's opening will coincide with the park's 40th anniversary.

The largest of the featured dinosaurs, a Ruyangosaurus, will stand more than 40 feet tall and 60 feet long. It will join more popular species such as Tyrannosaurus Rex and Triceratops.

Several dinosaurs will come with a console so visitors to the park can operate them while learning about how the reptiles lived millions of years ago.
And in Iran, someone is finding a way to
prepare a hamburger with the heat from your tailpipe
while driving.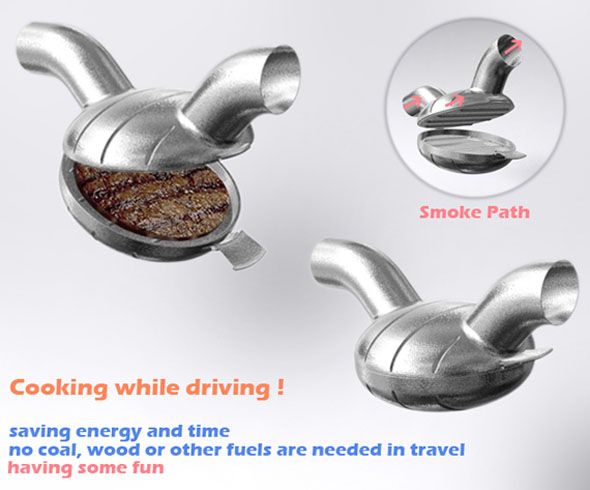 But frankly, I don't want to have one of those. Period.